The Daughters of the Republic of Texas celebrated their 125th Anniversary in 2016 at the L.B.J. Ranch in Stonewall, Texas. Chapter members from throughout the state gathered to celebrate this momentous event.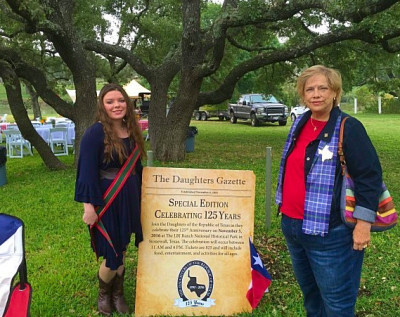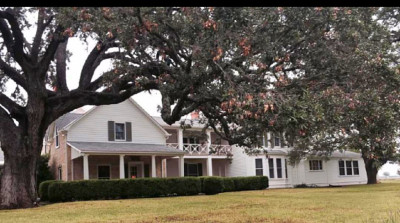 "Texas Whitehouse" LBJ Ranch Stonewall, TX
Sarah Funderburk - Past President General of CRT and Liz Hedges - President of JTE Chapter and DRT State Historian
JTE  Daughters gather  to Celebrate 125th Anniversary of
DRT.
Left to Right:
Liz Hedges,
Pat Woods, Sarah Funderburk, Elma Ash, Joan Rogerson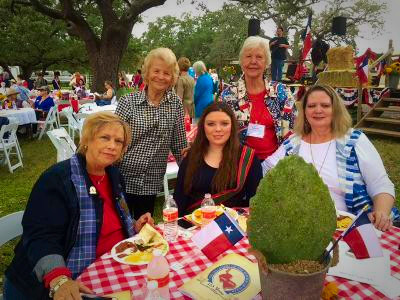 The 2016/2017 DRT State Convention was held in Dallas
during the Memorial Day Weekend.
Eight members of the JTE Chapter attended.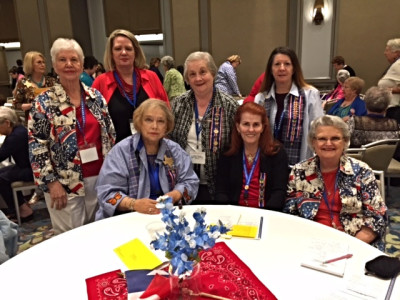 Pictured on the left JTE members who attended the 2016/2017 State Convention.

Standing left to right: Elma Ash, Joan Rogerson,

Suzy Burt, Karen Tyner.  Seated left to right:

Liz Hedges, Lyra McCarty, Lolita Lloyd.

District IV Workshop Held in Tyler on August 18th & 19th, 2017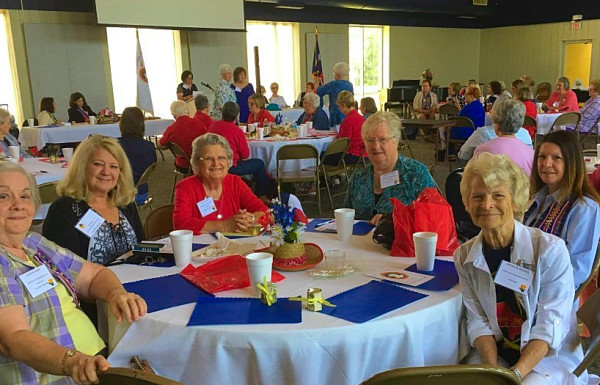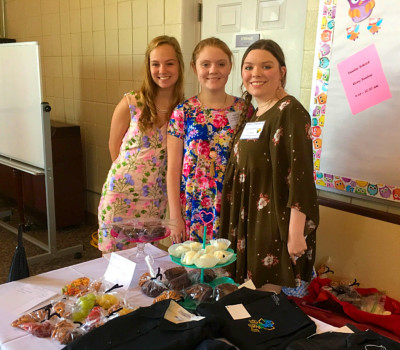 JTE Members at Workshop: Left to Right:

Suzy Burt, Sherri Smith, Lolita Llyod, Marcia Culver,

Karen Tyner and Pat Woods

MJL CRT members made and sold "Confectionary Delights" at the Workshop. Left to Right:  Mary Catherine Smith, Abby Funderburk, Sarah Funderburk.

                                             John Tilly Edwards Chapter sales table at Workshop in Tyler.

DAUGHTERS OF THE REPUBLIC OF TEXAS
JOHN TILLEY EDWARDS CHAPTER
Date: October 14, 2017
Saturday

Time: 11:30 AM

Place: Barron's

Hostess: Liz Hedges
This invitation is extended to CRT members and for JTE members who cannot meet on a weekday.  Prospective Members are also invited to attend

UP-COMING EVENTS AND CALENDAR
Oct. 12, 2017- Nacogdoches, Last Planning for 2018 State Convention
Oct. 27, 2017- San Antonio, Dedication and Grand Opening of DRT Library
Nov. 15, 2017- Dist. Rep to attend our JTE Chapter meeting.
May 02, 2018- JTE Chapter meeting (changed as to be before State Convention)
May 16-19, 2018- State Convention
Aug. 4, 2018- Dist. IV Workshop in Center,TX.