To promote the objective of The Daughters of the Republic of Texas, to preserve the history of Texas, the John Tilly Edwards Chapter dedicated a Medallion at the site of what is believed to be the only original International Border marker located in the Contiguous U.S.A.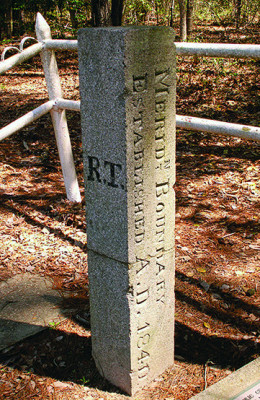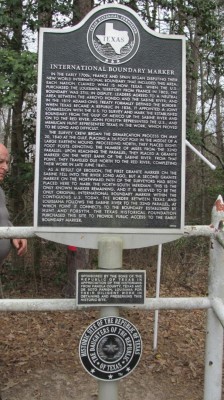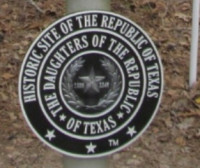 Daughters of The Republic of Texas
Marks Site as Historic site of
Original International Border Marker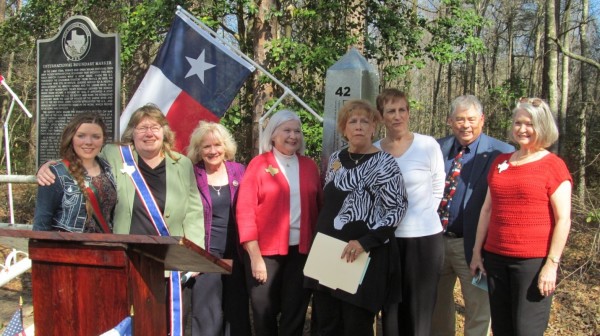 Driving Directions

To reach the marker site from central and northern Panola County, Texas, drive two miles south of Carthage on U.S. Highway 59 S to TX Farm Road 2517, travel east on Farm Road 2517 approximately 10 miles to TX Farm Road 31, and follow Farm Road 31 to the southeast about nine miles to the Texas/Louisiana state lin

e.
State DRT Officers and Guest

LEFT TO RIGHT: Sarah Funderburk, CRT Pres. Gen., Betty Edwards M.D., DRT Pres. Gen., Arlene Garey, Custodian Gen., Martha Fleitas, 4th VP Gen., Liz Hedges CRT Registrar Gen., JTE Pres., Judy Tannehill, 2nd VP Gen., Dr. Bill O'Neal, Texas State Historian, Cynthia Wilderster, SRT Library Committee .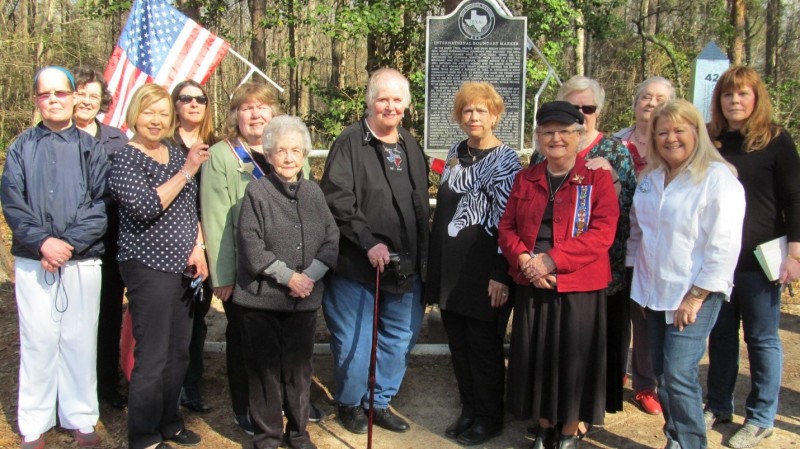 JTE Chapter Members and State President General, Dr. Betty Edwards

Front Row, Pictured Left to Right:  Amy Hilburn,  Suzie Hair, Stella Castilla, Limda O'Hart, Liz Hedges, Lolita Lloyd,

Sherrie Smith.  Back Row, Left to Right: Kay Hilburn, Karen Tyner, Dr. Betty Edwards, Marcia Culver, Suzy Burt,

Kay Haskins

Texas History Essay Topics for 2018
Topics of the Texas History Essays have been chosen by the DRT Historic Education Committee with input from the Historian General. 
Fourth Grade – "Stephen F. Austin, His Life and Contributions to the Republic of Texas"
Seventh Grade –"Moses Austin's Old 300, Who What, Why?"
Contest Open to any Fourth or Seventh Grade Student.
For complete set of Rules and Dead line please contact the JTE Chapter.
[if gte mso 9]>
<![endif][if gte mso 9]>
Normal
0
false
false
false
EN-US
X-NONE
X-NONE
<![endif][if gte mso 9]>
<![endif][if gte mso 10]> <![endif]
ART CONTEST

Topic: Historical site, event, activity, or individual(s) in each of the ten (10) DRT Districts documenting the settling of Texas prior to 1850.

Students and Adults are invited to enter the Annual Art Contest! Contestants are divided into 4 different categories: Kindergarten to Grade 5 (poster), Grades 6-8 (original artwork), Grades 6-12 (Power Point presentation), and Adult non-professionals – Age 55+ (original artwork).
The deadline for entry is 5 January 2018. Entries must be received (mailed or delivered) to the Republic of Texas Museum in Austin prior to the deadline.
Winners will be notified by the end of February 2018 with a reception will be held in Austin to honor the winners on April 7th, 2018. Details to follow.
Please see the Republic of Texas Museum Art Contest brochure for additional details or email republicoftexasmuseumchair@drtinfo.org with questions!

or Contact JTE Chapter